Volunteer

----------------------------------
Become a Volunteer
----------------------------------
Volunteers in Action
----------------------------------

Hours
See TLD Blog for updates
The Loading Dock, Inc.
2 North Kresson Street
Baltimore, MD 21224
410-558-DOCK (3625)
fax 410-558-1888
Become a Volunteer
Warehouse Helpers
We're always in need of help in and around our warehouse. You might sort through carpet tiles, clean kitchen cabinet displays, reorganize a product section or weed our garden beds!
Group Volunteering
Looking for a fun activity for your co-workers, club/organization or your students (high school & above)? Volunteering at TLD is a great way to strengthen team-building, learn new skills, and give back to the community!
Teach a Workshop
Share your expertise and knowledge with our clients! Topics may focus on home improvement such as tiling or installing doors/windows, or on creative reuse such as mosaic tile art or upcycling furniture! Workshops are hosted at the TLD warehouse and generally on a Saturday from 10am–12pm. Sunday opportunities may also be an option.
If you are a community space or business who would like to host a creative reuse workshop in partnership with TLD, please let us know.
Spreading the Word
Attend local events and festivals with Loading Dock staff. Assist with setting up/breaking down of displays and communicating our mission and services to the general public.
Community Service Hours
TLD may place volunteers requiring community service hours, including court-ordered or service recommended by a case manager or attorney prior to a court date. Potential volunteers requestinging placement must provide documentation of hours ordered. TLD may not be able to accommodate hours for certain offenses. Please contact volunteer@loadingdock.org for more information.
Accommodations
We love having volunteers with all abilities! TLD can provide volunteer projects that accommodate a variety of needs with advance notice.

We love volunteers and never run out of things to do around the warehouse. We have a job for you whether it's 2 hours or 50 people all day! Our "honey-do list" is long.
All volunteer involvement helps divert reusable materials from landfills and into productive use.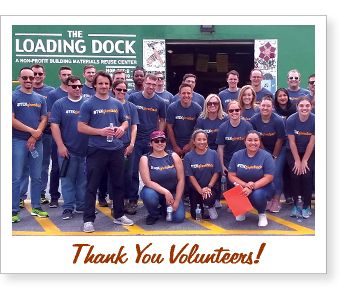 If you have questions about volunteering, please email volunteer@loadingdock.org or call (410) 558-3625 ext. 16.
Download this information in PDF format.
Adobe Acrobat Reader required (download).