Volunteer

----------------------------------
Become a Volunteer
----------------------------------
Volunteers in Action
----------------------------------

Hours
Mon – Sat 8 – 6
Sun 10 – 4
The Loading Dock, Inc.
2 North Kresson Street
Baltimore, MD 21224
410-558-DOCK (3625)
fax 410-558-1888
Become a Volunteer
We love volunteers and never run out of things
to do around the warehouse. We have a job for
you whether it's 2 hours or 50 people all day!
Our "honey-do list" is long.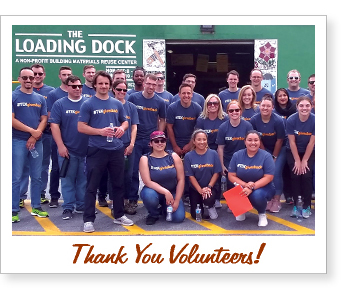 All volunteer involvement helps divert reusable materials from landfills and into productive use.
If you would like to volunteer contact Colline Emmanuelle
at (410) 558-DOCK (3625) or volunteer@loadingdock.org.
Download this information in PDF format.
Adobe Acrobat Reader required (download).
Warehouse Work Nights
NOTE: Wednesday Work Nights are postponed
until further notice - please check back for updates.
Join staff and volunteers every 1st & 3rd Wednesday of the month from 6 to 8pm for work nights to restock and organize warehouse. You might sort through 1,000 carpet tiles, clean kitchen cabinet displays, reorganize a product section or weed and water our 1.5 acre landscape project.
Group Volunteering
Looking for a fun activity for your co-workers, club/organization, or your students (high school and above)? Volunteering for TLD will not only get you out of work for a few hours, but it will give you that feel good feeling. The activities are the same as Warehouse Work Nights (see above).
Teach a Workshop
Share your expertise and knowledge with our clients. Topics may include weatherization, paint techniques, plumbing, installing windows doors, tile, carpet, etc. Workshops are held the 2nd and 4th Saturday of the month from 10 – 11:30 am.
Recruit Donations
Come to the Howard County Landfill to help us collect reusable building materials and give them another life. Volunteers will greet and thank donors and load product into our collection trailer onsite.
Spreading the Word
Attend local events and festivals with Loading Dock staff. Assist with setting up/breaking down of displays and communicating our mission and services to the general public.