---
4/10/21 - Thank you, Volunteering Untapped!
We sure did miss having group volunteers. After a year, our event got rescheduled and this group did a great job! The 7 volunteers gave 20 hours of service and during their time here they: organized 15 pallets of modular bricks (90 layers!), color-coded over 150 cans of paint, and provided much needed helping hands for our small crew of staff. We love volunteers!





---
12/10/19 - Thank you, T. Rowe Price!
This group was a whirlwind in the warehouse! The 24 volunteers gave 42 hours of service and during their time here they: stacked 6000sf of laminate & carpet tile, organized 100 can of paint, cleaned and swept the warehouse AND organized the moulding section. We love volunteers!

---
11/20/19 - Thank you, Cintas!
We had a great time with this group! 4 volunteers joined us and contributed 12 hours of service. They restacked 4 pallets of hardwood flooring and 2 pallets of carpet tile making it easier for our members to find materials!

---
10/5/19 - Thank you, Civic Works!
We loved being a host site for the Civic Works' Ricky Myers Day of Service. 6 volunteers joined us and contributed 18 hours of service. They unloaded 170 cabinets from the overstock storage container which helped get new product to the warehouse for our members!

---
10/2/19 - Thank you, Carefirst!
We were so glad to be a host site for Carefirst's Day of Equity & Action! 30 volunteers gave 37.5 hours of service by organizing around 1,000 pieces of lumber, sorting 200 pallets of all shapes and sizes, straightening every shelf in the tile section, and reorganizing and tagging 32 toilets and 90 toilet lids. The volunteers also painted 200 sq. ft. of warehouse wall in preparation for our upcoming art installation which will feature over 20 pieces of upcycled art made by our community members.
---
8/2/19 - Thank you, Johns Hopkins Carey School of Business!
It was great having volunteers from this group volunteering with us again! They swept 1,000 linear feet of the warehouse, organized 700 pieces of trim moulding and 100 doors. They cleaned 60 cabinets,sorted 5 pallets of carpet tile (300 pieces per pallet, 1,500 total pieces), "dotted" 250 cans of paint, merchandized 473 square feet of wood flooring, AND cleared up trash around the property. Way to go & thank you!
---
7/23/19 - Thank you, Under Armour!
We are always happy to have Under Armour volunteering with us! They moved 450 gallons of paint, stacked 600 square feet of carpet tiles, swept 100 square feet of the warehouse, reorganized 35 toilets, and 18 sets of blinds!
They also unloaded and sorted almost an ENTIRE roll-off of lumber and took out and organized over 150 doors from the door room. On top of that, they cut and rolled 14 carpets to size and picked up trash around our property. THANK YOU!
---
6/21/19 - Thank you, Hertzbach Volunteers!
We loved having this group back volunteering with us! They cut 43 rolls of carpet, color "dotted" roughly 400 cans of paint, and organized our cove base section. Way to go, Hertzbach - we really appreciate it!

---
6/6/19 - Thank you, Allegis TEK Volunteers!
We were so glad to welcome back Allegis TEK for another great day of service! Volunteers cut more carpet (sooo much carpet), filled our pallet planters, as well as helped organize & sort product in the warehouse. Woohoo!

---
5/1/19 - Thank you, Allegis Volunteers!
This hard-working group cut carpet, dug a drainage ditch for our new parking lot, clean-up up inside & outside of the warehouse, and prepped scrap metal for recycling!

---
2/18/19 Thank you, Civic Works Volunteers!
This group braved the cold and helped clean in front of our warehouse & also cleared out some space in our overstock area. Thank you!


---
2/7/18 Thank you, Under Armour Volunteers!
Our warehouse looked completed different after these volunteers came through and cleaned & organized. We're so grateful to large groups who help our staff get through large, needed projects!
---
11/9/18 Thank you, Hertzback Group Volunteers!
The warehouse was super organized by the time this group left! Paint, carpet tile, bricks, moulding, and much more got cleaned up and sorted while this group was here. Our members can now find things much easier while they are shopping!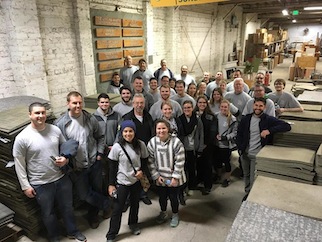 ---
10/11/18 - Thank you, Constellation Energy Volunteers!
Our brick & block yard got a make-over with this group who re-stacked and organized product. Their second team helped us cut down large carpet rolls into more smaller sizes.
---
7/28/18 - Thank you, GIVE Baltimore Volunteers!
GIVE Baltimore pushed through a lot on a hot, Saturday morning. They continued our front yard clean-up projects, cleared a lot of space and re-stacked roof slate. We appreciated their help!
---
7/26/18 - Thank you, Allegis TEK Volunteers!
Wow, this great group transformed our brick area! From restacking bricks onto pallets, picking up trash, and tidying the rows, this group really got a lot done in a short period of time - what a huge help!
---
6/27/18 - Thank you, Cabinet Heros!
This awesome group helped unbox a mountain of cabinets! Not only does this help us get more products available to our members, it also helps us make space in the warehouse!
Before: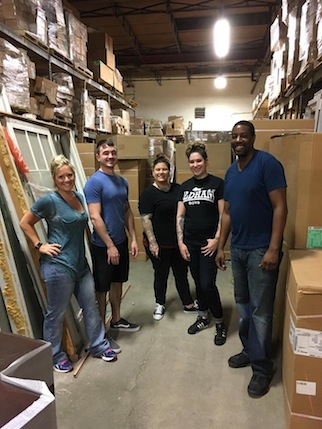 After: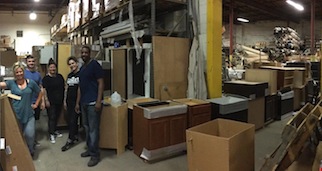 ---
6/19/18 - Thank you Under Armour & Southway Builders!
On this very hot day, TLD was VERY lucky to have not one, but TWO super helpful teams of volunteers!
Under Armour started the day off with re-organizing and stacking bricks, and cleaning up our front lot. They also helped us unbox and sort new cabinets!
Southway Builders took the baton in the afternoon and continued stacking bricks, finishing the cabinet project, AND helping us sort wire for recycling.
These volunteer groups help us knock out projects that we have really been needing help with finishing. They were troopers in the heat and did an awesome job!
THANK YOU!!!
Under Armour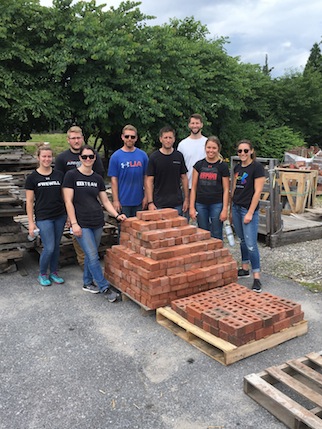 Southway Builders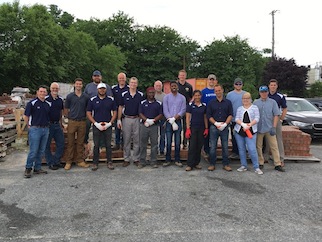 ---
---
4/29/18 - Thank you Temple University Alumni!
Not only did this group sort and re-stack 6 crates of heavy roof slate, they also got to meet TLD's office R2-D2 - Beep boop beep whistle (Droid for thank you)!
---
4/21/18 - Thank you, Chelsea!
Our wonderful Outreach volunteer, Chelsea, did an awesome job representing TLD and some upcycled gardening ideas for the Garden Party hosted by our partners at Canton Ace Hardware. Thanks, Chelsea!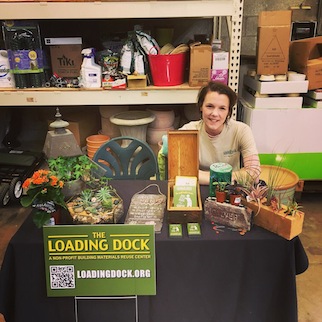 ---
4/20/18 - Thank you University of Baltimore!
We had a great day with this group for their annual Community Day of Service. They helped break down cardboard for recycling and also organized and cleaned up the materials in front of our building. Thank you!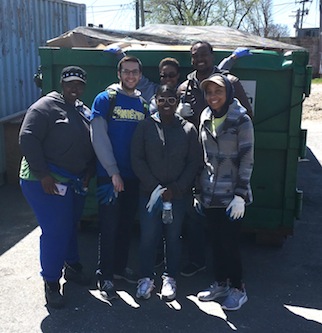 ---
3/7/18 - Thank you Students Today Leaders Forever Michigan State University Chapter!
This large group helped us knock out some big projects, including organizing and sorting our window room, cove base, and door sections. They also unboxed and sorted lots of new cabinets. This was a huge help and it was amazing how much they got done in a short period of time!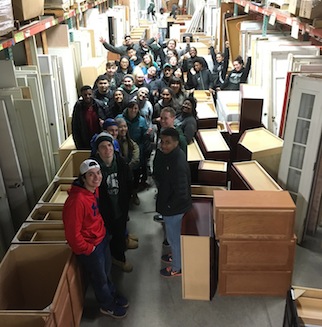 9/13 & 9/20/17 - Thank you Under Armour!
We were visited by 2 groups of volunteers who helped us start and complete several projects. Volunteers helped organize our cabinet door & drawer and appliance aisles, and prep materials for the upcoming Fells Point Festival in October. Their help was very much appreciated!
---
8/4/17 - Thanks JHU Carey School of Business!
We were lucky to have such a large group volunteering with us from JHU! These students completed a lot for their first time volunteering! They helped TLD tidy up by sweeping our warehouse, re-organizing our bricks and pavers, and picking up litter from around our facility.

---
7/11/17 - Thank you Civic Leadership!
These teens did a great job helping out around the warehouse with cleaning sorting product!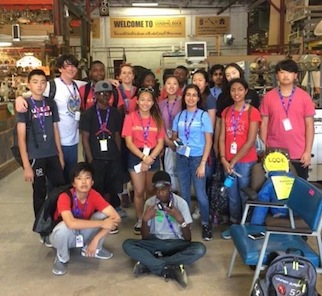 July 2017 - Thank you Blind Industries!
We were so glad to have volunteers return to help us throughout the month of July. They kept our warehouse tidy and helped us sort through lots of product like carpet tile. We hope to have them back next summer!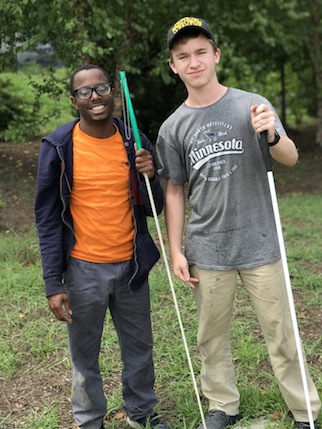 ---
6/30/17 - WE LOVE OUR WEEKLY VOLUNTEERS
We are very lucky to have volunteers who come on a weekly basis. One of these people is Jonathan who comes with a background of building material and tool knowledge! We're so happy to see Jonathan every week and have his help!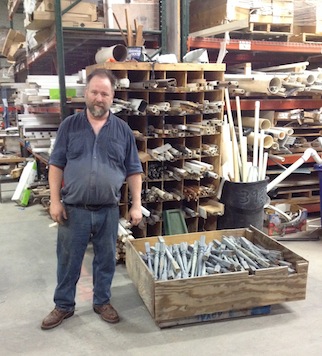 ---
6/26 - 6/30/17 - Thank you YNIA!
We had a great group of volunteers with us this week all the way from North Carolina! Young Neighbors in Action worked on on landscaping our garden, and added more pedestal sink planters!
---
6/23/17 - WE LOVE OUR BOARD MEMBERS!
Thank you to The Loading Dock, Inc.'s Board Members who came in for an afternoon of service in the warehouse. They pitched in and helped clients on the floor, moved cabinets and other products, and did a great job with Client Service. THANK YOU for all of your support!
---
Reading Partners was with us all week organizing and sorting product to help our clients find what they need easily! From cabinet shelving, to wallpaper and mirror moulding, the volunteers worked non-stop to get things in order!
---
Constellation Energy continued our front lot beautification with more mulching. It looks great!

---
6/12-6/16/17 - THANK YOU, Americorps NCCC Buffalo Teams 1 & 6!
These teams were troopers the entire week during the hottest part of the year we've had so far! They helped us clean up our front entrance and yard, unload and process materials, and organize and tidy the inside of our warehouse!

---