We're so proud to be included in this article and recognized as the nation's first non-profit building materials reuse center. We're especially honored to be included with other pioneers of this industry, including other organizations also run by women, like our featured friends at Community Forklift - Nonprofit Reuse Center For Home Improvement.


---
We're so pleased our wonderful volunteers were featured in the Baltimore Sun's Prime Living insert!

The Loading Dock, Inc. has a dynamic and diverse volunteer program, and we're proud and grateful to have volunteers with us ranging from individuals to groups and with all abilities. We love our volunteers!

If you are interested in learning more about our volunteer programs, please email volunteers@loadingdock.org.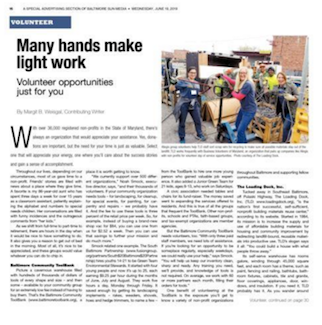 ---

Towson Lifestyle
The Loading Dock, Inc. is the cover article for Towson Lifestyle magazine for their April 2019 green issue! The cover photo features some of the amazing graffiti art that surrounds our property.

---
BUILD Maryland
We're so excited to be the cover feature for Maryland Building Industry Association's BUILD Maryland magazine for their May/June 2018 issue!
---
Best Things Maryland
The Loading Dock's DIY workshops named one of the 15 Best Free Things to Do in Maryland!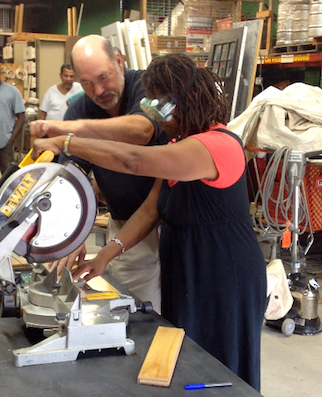 Attendee learning how to prepare reclaimed wood flooring for installation.
---
A pARTnership & project at the Peale Museum
April - July 2016
Only When It's Dark Enough Can You See The Stars, a project with New York-based artist Abigail DeVille presented by The Contemporary at the former Peale Museum located at 225 N. Holiday Street. Opened in 1814, the Peale Museum is the first building in the Western Hemisphere to be built and designed as a museum.
The Loading Dock donated most of the reclaimed materials used in the creation of the project.
---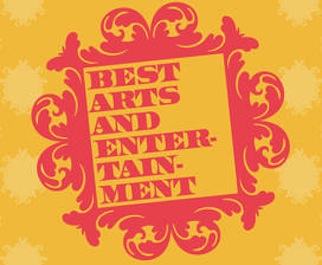 ---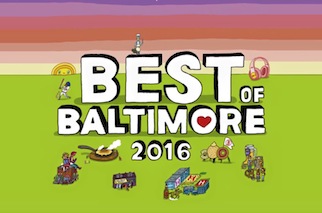 ---
6/13/16 - MOMUS, Owen Duffy
DeVille at her Artist Talk on 4/25/16
---
5/25/16 - City Paper, Rebekah Kirkman
Curatorial tour on 5/18/16
---
5/5/16 - Baltimore Magazine, Gabriella Souza
Work by New York-based artist Abigail DeVille occupies historic Peale Museum.
---
3/16/16 - Bmoreart, Rebecca Juliette

---
Other News
6/11/09 - Reuse Centers Thrive in Economic Recession
This video was created by VOA News. It gives a great overview of TLD's warehouse.
Artscape is America's largest free arts festival,which The Loading Dock features installations created from materials from our warehouse, by local artist Michael Metcalf.
7/14/16 - Baltimore Sun, Chris Kaltenbach
The Loading Dock's installation was listed as one of six things not to miss!

---
"As a compliment to the exhibition Imagining Home, Baltimore-based artist Marian April Glebes, in collaboration with the non-profit building materials reuse facility The Loading Dock, presented a project on the material nature of home. The collaboration explored what our homes are made from and what this can tell us about our shared history and sense of place. The project consisted of installations at the BMA as well as The Loading Dock, accompanied by a year-long series of public programs."
For more information about our pARTnership with the BMA, including other projects like the Community Brick Factory, and workshops hosted at the BMA, visit our PARTnerships page here:
---
8/4/16 - BmoreArt. Amber Eve Anderson
"Home, museum, salvaged material re-use center—these are the sites and subjects of Marian April Glebes' Three Sheds for Three Sites, a triptych of sculptures that explores concepts of mobility and preservation through curated objects in three locations."
11/4/15 - Citypaper, Ellen Luptin
This article discusses The Loading Dock's involvement with the new exhibit opening at the BMA and Baltimore artist, Marian April Glebes.
Glebes' installation at the BMA in the "Inspiring Home" exhibit was made almost entirely of materials from The Loading Dock
---
June 2016
Marian April Glebes, in collaboration with Josh Copus, launched the Baltimore Mobile Community Brick Factory. This project is an extension of Glebes' year-long project, in partnership with The Loading Dock, at the Baltimore Museum of Art's Patricia and Mark Joseph Education Center.
---
10/24/15 - The Baltimore Sun, Mary MariaCarole McCauley
Glebes' satellite exhibit for the BMA at The Loading Dock
10/22/15 - Examiner
Slideshow of photographs from the "Imagining Home" exhibit at the BMA.
---