We have free DIY workshops year-round at TLD. Here are some examples of topics we've covered in the past.
Want to check out our current schedule or suggest a topic? Visit our Workshop page!
---
Intro to Electrical - 10/14/17
Arman Mizani from the Station North Tool Libraryoaught participants how to navigate electrical issues in old houses & how to complete projects like changing out light swtiches and ceiling fans. Attendees got to try out wiring and safety skills on a mock up circuit.
---
Drywall Repair - 9/16/17
Longtime workshop instructor Mark Weaver demonstrated and led hands-on demonstration of tips and tricks for repairing drywall.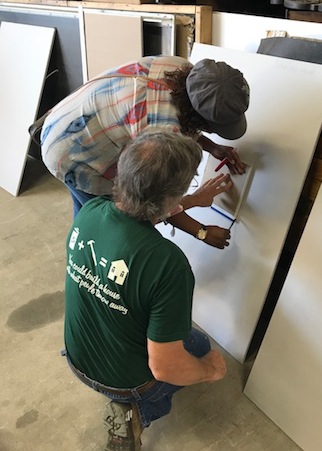 ---
Wallpaper Upcycling - 9/9/17
Returning TLD instructor Abbey Wascovich led the workshop attendees through the process of making their own decorative wreaths!
---
Plumbing 101: Installing Fixtures - 7/8/17
Arman Mizani from the Station North Tool Library returned to demonstrate how to troubleshoot and install toilets and bathroom vanity tops!
---
Installing Tile Backsplashes - 6/17/17
TLD workshop instructor Lawrence Oliva demonstrated how to install tile backsplashes through hands-on demonstration.

---
Rewiring Lamps - 5/27/17
Instructor Zachary Yarosz showed attendees how to troubleshoot finicky table and pendant lamps and taught basic rewiring skills. Participants were able to ask questions about lamps they were interested in fixing.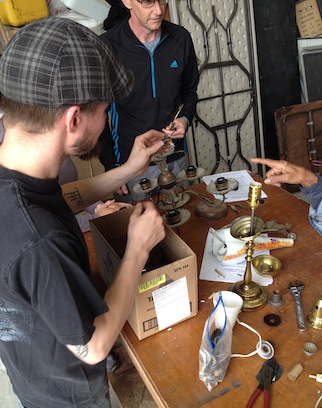 ---
Mosaic Stepping Stones - 5/21/17
This popular topic was the featured workshop for our first ever Sunday workshop! Instructor Pat Stein returned to show participants how to mix thin-set mortar and grout, and turn reclaimed ceramic tile and bricks into beautiful stepping stones!

---
Installing Reclaimed Hardwood Flooring- 4/29/17
Returning instructor Lawrence Oliva from Second Century Homes gave attendees all the tips and tricks for working with reclaimed hardwood flooring. Participants got to try their hand at prepping the flooring and then installing it with a pneumatic nail gun.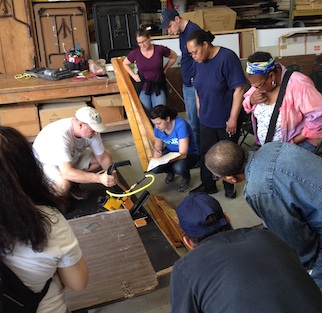 ---
Tools Skills & Safety for Home Care with Station North Tool Library - 4/8/17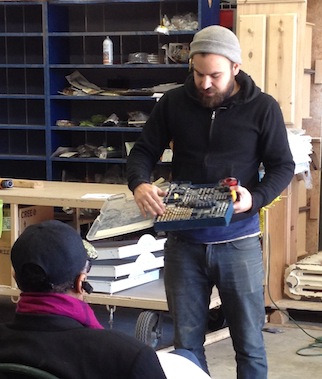 Arman Mizani from the Station North Tool Library demonstrated how to safely use several different types of power tools. Participants got a chance to try each of the tools and were able to practice creating a miter joint.
The Station North Tool Library is a community hub and lending library located in the hert of Baltimore with over 2,000 tools, 25+ classes, and a public woodworking shop.
---
Visit from Open Works Baltimore Mobile - 4/1/17
Open Works, a maker space in Baltimore, has the mission to make tools, technology, and the knowledge to use them accessible.
Their mobile unit visited us and brought a CNC (Computer Numeric Control) machine that etched wood with a laser!

---
Installing Kitchen Cabinets with Mark Weaver - 3/25/17
Attendees learned foundations of kitchen design and basic installation of used wall & base cabinets.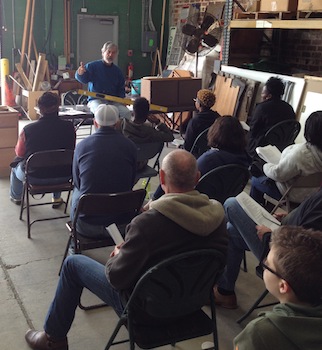 ---
Participants made beautiful stepping stones by using reclaimed tile and pavers from our warehouse! Led by longtime TLD Instructor Pat Stein.

---
Cove Base Rugs with SCRAP B-More - 2/11/17
Nancy from SCRAP B-More came and showed us how to make rugs out of cove base (the vinyl material that runs along the wall by the floor). These mats are creative way to repurpose a material into something really useful!
---
Cabinet Door Message Boards - 2/4/17
Workshop attendees made message boards out of repurposed cabinet doors! Our insturctor, Abbey, is a workshop attendee-turned-instructor, who brought in examples of ones she made from TLD materials!
---
Drywall Repair & Picture Hanging - 1/21/17
Workshop participant turned instructor, Angela, showed workshop attendees how to fix drywall with larger problems. Angela demonstrated how to fix damage from door knobs, as well as how to fix large holes cut for plumbing work. Particpants also learned how to hang pictures with drywall anchors and wall studs.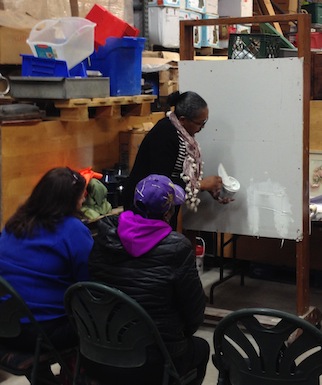 ---
Prepping & Painting Interior Walls - 12/3/16
TLD Staff member Amy demonstrated how to fix small imperfections in drywall to prepare for painting. She also demonstrated several different painting techniques!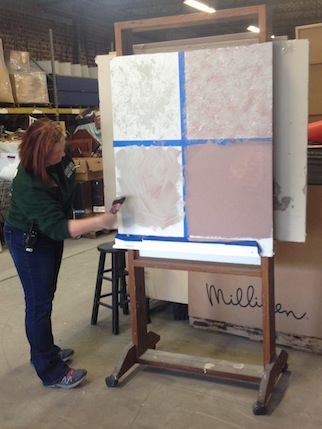 ---