We host free DIY workshops at TLD! Here are some examples of topics we've covered in the past.
Want to check out our current schedule or suggest a topic? Visit our Workshop page!
---
Courtney Belew, one of our partners at Canton Ace Hardware, demonstrated how to patch, troubleshoot, and repair holes in drywall.
Participants learned how to prep, spackle & smooth
drywall surfaces to conceal dents, nicks, nail holes, and even larger sized holes using a variety of materials readily available at The Loading Dock or your local hardware store.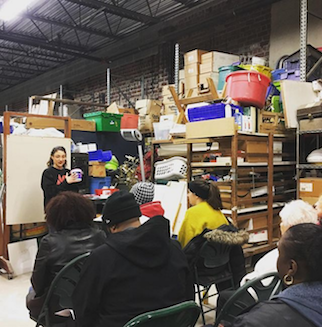 ---
Mosaic Trivets ~ 12/3/17
Longtime TLD Instructor Pat Stein taught participants how to use broken & miscellaneous tile to create beautiful hot plates to take home!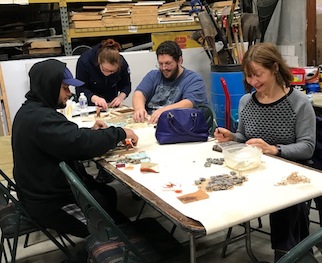 ---
Installing Tile Backsplashes ~ 11/11/17
Lawrence Oliva returned to demonstrate how to install tile backsplashes through hands-on activities including spreading grout and placing tile.

---
Installing Reclaimed Hardwood Flooring - 11/4/17
Returning instructor Lawrence Oliva from Second Century Homes gave attendees all the tips and tricks for working with reclaimed hardwood flooring. Participants got to try their hand at prepping the flooring and then installing it with a pneumatic nail gun.
---
Halloween Décor DIY - 10/21/17
TLD Staff member Colline showed attendees different types of spoopy decorations that could be made from materials found in the warehouse!
Each participant learned how to make chalkboard paint and created a chalkboard gravestone out of an old cabinet shelf!
---
Intro to Electrical - 10/14/17
Arman Mizani from the Station North Tool Library taught participants how to navigate electrical issues in old houses & how to complete projects like changing out light swtiches and ceiling fans. Attendees got to try out wiring and safety skills on a mock up circuit.
---
Drywall Repair - 9/16/17
Longtime workshop instructor Mark Weaver demonstrated and led hands-on demonstration of tips and tricks for repairing drywall.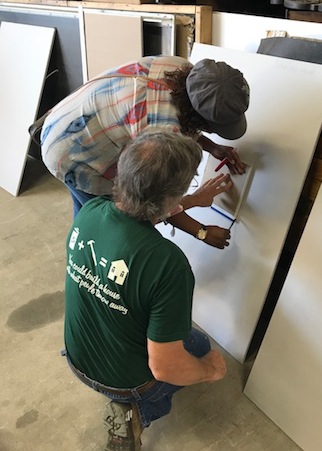 ---
Wallpaper Upcycling - 9/9/17
Returning TLD instructor Abbey Wascovich led the workshop attendees through the process of making their own decorative wreaths!
---
Plumbing 101: Installing Fixtures - 7/8/17
Arman Mizani from the Station North Tool Library returned to demonstrate how to troubleshoot and install toilets and bathroom vanity tops!
---
Rewiring Lamps - 5/27/17
Instructor Zachary Yarosz showed attendees how to troubleshoot finicky table and pendant lamps and taught basic rewiring skills. Participants were able to ask questions about lamps they were interested in fixing.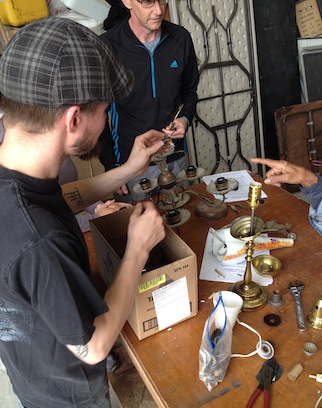 ---
Mosaic Stepping Stones - 5/21/17
This popular topic was the featured workshop for our first ever Sunday workshop! Instructor Pat Stein returned to show participants how to mix thin-set mortar and grout, and turn reclaimed ceramic tile and bricks into beautiful stepping stones!

---
Tools Skills & Safety for Home Care with Station North Tool Library - 4/8/17
Arman Mizani from the Station North Tool Library demonstrated how to safely use several different types of power tools. Participants got a chance to try each of the tools and were able to practice creating a miter joint.
The Station North Tool Library is a community hub and lending library located in the hert of Baltimore with over 2,000 tools, 25+ classes, and a public woodworking shop.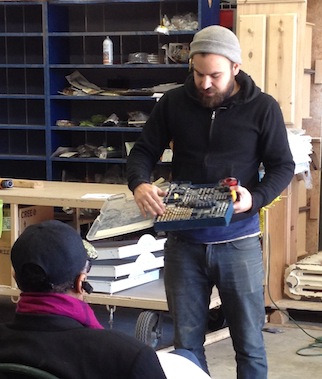 ---