We host free DIY workshops at TLD! Here are some examples of topics we've covered in the past.
Want to check out our current schedule or suggest a topic? Visit our Workshop page!
---
Installing Reclaimed Hardwood Flooring - 4/13/19
Returning instructor Lawrence Oliva from Second Century Homes gave attendees all the tips and tricks for working with reclaimed hardwood flooring. Participants got to try their hand at prepping the flooring and then installing it with a pneumatic nail gun.

---
Rewiring Lamps with Zach (at TLD)~ 3/23/19
Instructor Zach returned to TLD to teach the basics and tools needed for rewiring, and how to trouble-shoot finicky table and pendant lamps. Plus, we got to use our new workshop station!
Drywall Repair with Canton Ace Hardware (at TLD)~ 3/9/19
Courtney, one of our partners at Canton Ace Hardware, returned to demonstrate how to patch, troubleshoot, and repair holes in drywall.
Participants learned how to prep, spackle & smooth drywall surfaces to conceal dents, nicks, nail holes, and even larger sized holes using a variety of materials readily available at The Loading Dock, Inc. or local hardware store.

---
Cove Base Rugs with SCRAP B-More - 2/10/19
Nancy from SCRAP B-More showed us how to make rugs out of cove base (the vinyl material that runs along the wall by the floor). These mats are creative way to repurpose a material into something really useful!
---
The Loading Dock, Inc. paired up for this workshop with B.Willow, an indoor plant and terrarium shop located in the Baltimore neighborhood of Remington. Participants turned repurposed glass light covers into beautiful succulent planters to take home.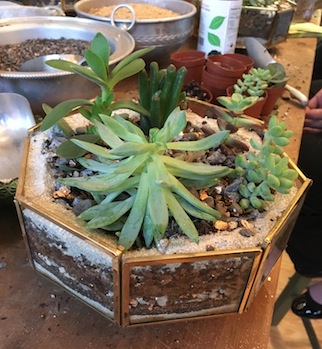 ---
Installing Tile Backsplashes ~ 11/3/18
Lawrence Oliva returned to demonstrate how to install tile backsplashes through hands-on activities including spreading grout and placing tile.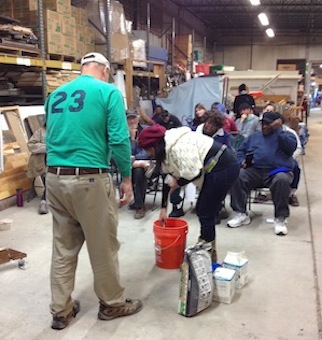 ---
Mosaic Stepping Stones - 9/22/18
Instructor Pat Stein was joined by the Parks & People Foundation, and returned to show participants how to mix thin-set mortar and grout, and turn reclaimed ceramic tile and bricks into beautiful stepping stones!
---
B.Willow Wall-mount Light Vine Planters - 6/26/18
We had a great time teaming up again with B.Willow, a indoor plant and terrarium store in Remington. Participants used wallmount light fixtures from TLD and turned them into beautiful planters for vining tropical plants from B.Willow. You can make your own too with a fixture from TL, and plants & potting at B.Willow!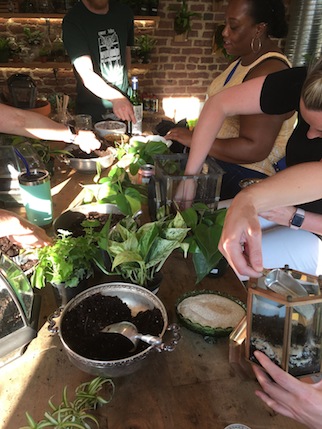 DIY Light Planter steps:
1) Take out electrical components. You'll need wire cutters, screwdrivers, and needle-nose pliers.
2) See if there's room for water to drain out of the bottom of the fixture. If it's a big hole, you will need to put a stone over it when potting to make sure the soil doesn't fall out.
3) Layer gravel then soil, leaving about 2" from the top of the planter. You can also layer with mica or stones to create a beautiful design that you can see through the glass.
4) Add your plant and mount the planter fixture to a wall or deck!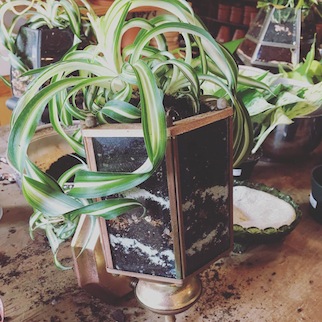 ---
Kitchen Design with Mark Weaver - 5/19/18
Long-time workshop instructor Mark Weaver returned to teach the foundations of kitchen design, and the concepts of using reclaimed materials like cabinets.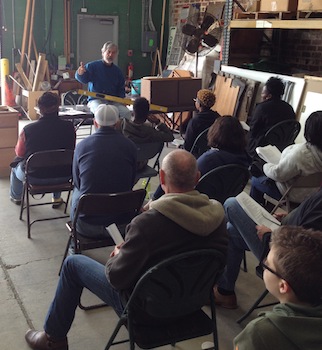 ---
Knock, knock....Arman Mizani from the Station North Tool Library returned to teach attendees all about doors! Participants learned about changing locksets and shaving down doors that no longer fit in their frames. Instruction also included the order of operations for hanging a new door, including mortising hinges and drilling holes for new lock sets.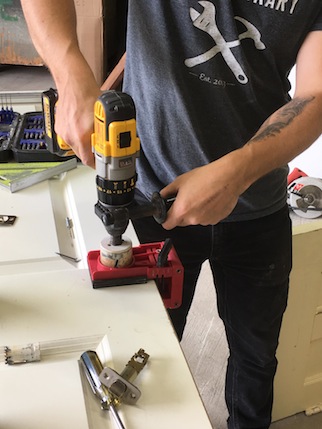 ---
Mosaic Trivets ~ 12/3/17
Longtime TLD Instructor Pat Stein taught participants how to use broken & miscellaneous tile to create beautiful hot plates to take home!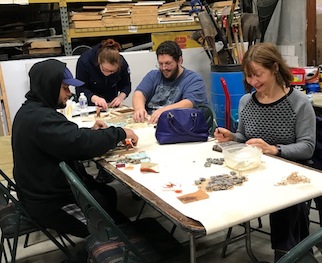 ---
---