3 Easy Ways to Sign Up - TLD Workshops
1. Online fill out the form on the right
2. Email us
3. Call The Loading Dock at (410) 558-3625 ext. #15
DIY Workshop Instructors Needed!
Enjoy doing DIY home improvement or creating upcycled art? Contact us about becoming a TLD Workshop Instructor: volunteers@loadingdock.org
Check out our past workshops!
---
Upcoming Workshops
Workshops are held on Saturdays at the TLD warehouse, from 10am - 12pm, unless otherwise specified. Seating is limited.
Installing Reclaimed Hardwood Floors ~ April 14th
Succulent Planters at B.Willow ~ April 19th
Doors 101 ~ May 5th
Kitchen Design ~ May 19th
Mosaic Stepping Stones ~ SUNDAY June 10th
See below for details on specific workshops & topics.
---
Installing Reclaimed Hardwood Floors with Lawrence Oliva
Saturday, April 14th ~ 10am - 12pm
Lawrence returns to teach one of our most popular topics: how to choose and installed reclaimed hardwood flooring. Attendees will learn all of the tips and tricks and will get to try their hand at prepping the flooring and installing it with a pneumatic nail gun.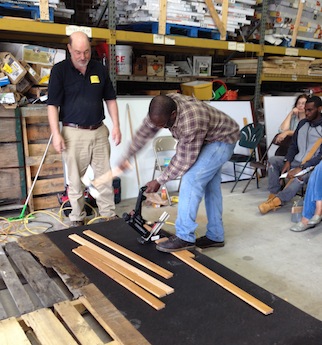 ---
Succulent Planter Building at B.Willow
Thursday, April 19th - 6:30 - 8:00pm @ B.Willow
Join B.Willow and The Loading Dock for a night of succulent planting at B.Willow's shop in Remington! The Loading Dock will be supplying gorgeous repurposed glass lamp fixtures that we'll be using for succulent planters. Learn everything you'll need to know to grow healthy and happy succulents. Make sure you have a bright spot to place your new succulents!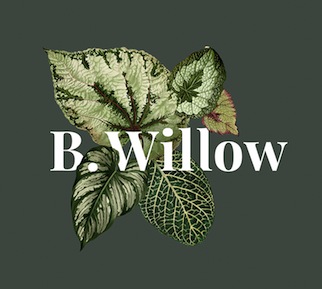 All materials are included in the $45 ticket (sign-up here). Space is limited! Sorry, no discount given for bringing in your own container. Attendees will also receive 15% off plants during the workshop. For beverages during the workshop, feel free to BYOB!
---
Saturday, May 5th ~ 10am - 12pm
Knock, knock....Arman Mizani from the Station North Tool Library returns to teach attendees all about doors! Participants will learn about changing locksets and shaving down doors that no longer fit in their frames. Instruction will also include the order of operations for hanging a new door, including mortising hinges and drilling holes for new lock sets.
---
Kitchen Design with Mark Weaver
Saturday, May 19th ~ 10am - 12pm
Wanted to redo your kitchen, but not sure where to get started? Long-time workshop instructor Mark Weaver returns to teach the foundations of kitchen design, and the concepts of using reclaimed materials like cabinets.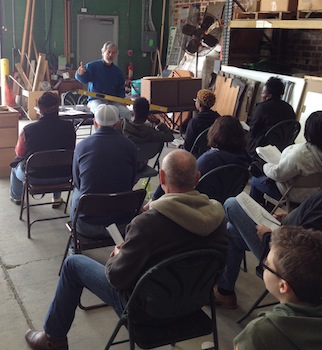 ---
Mosaic Stepping Stones with Pat Stein
SUNDAY, June 10th ~ 11am - 1pm
For this SUNDAY workshop, instructor Pat Stein returns to show participants how to mix thin-set mortar and grout, and turn reclaimed ceramic tile and bricks into beautiful stepping stones to take home!
*This workshop is limited to 25 participants*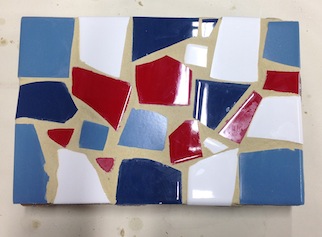 ---