3 Easy Ways to Sign Up - TLD Workshops
1. Online fill out the form on the right
2. Email us
3. Call The Loading Dock at (410) 558-3625 ext. #15
DIY Workshop Instructors Needed!
Enjoy doing DIY home improvement or creating upcycled art? Contact us about becoming a TLD Workshop Instructor: volunteers@loadingdock.org
Check out our past workshops!
---
Upcoming Workshops
Workshops are held on Saturdays at the TLD warehouse, from 10am - 12pm, unless otherwise specified. Seating is limited.
Drywall Repair ~ March 3rd
Installing Tile Backsplashes ~ March 10th
Installing Reclaimed Hardwood Floors ~ April 14th
See below for details on specific workshops & topics.
---
Saturday, March 3rd ~ 10am - 12pm
Courtney Belew, one of our partners at Canton Ace Hardware, will be demonstrating how to patch and repair holes in drywall.
Learn how to prep, spackle & smooth
drywall surfaces to conceal dents, nicks, nail holes, and even larger sized holes using a variety of materials readily available at The Loading Dock or your local hardware store.
---
Installing Tile Backsplashes with Lawrence Oliva
Saturday, March 10th ~ 10am - 12pm
Long-time TLD instructor Lawrence Oliva returns to demonstrate how to install tile backsplashes through hands-on activities including spreading grout and placing tile.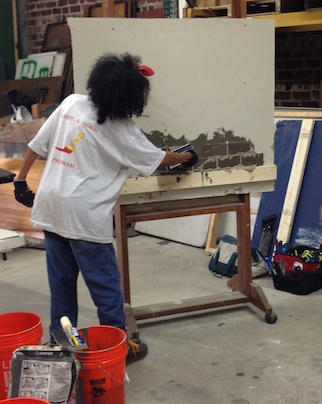 ---
Installing Reclaimed Hardwood Floors with Lawrence Oliva
Saturday, April 14th ~ 10am - 12pm
Lawrence returns to teach one of our most popular topics: how to choose and installed reclaimed hardwood flooring. Attendees will learn all of the tips and tricks and will get to try their hand at prepping the flooring and installing it with a pneumatic nail gun.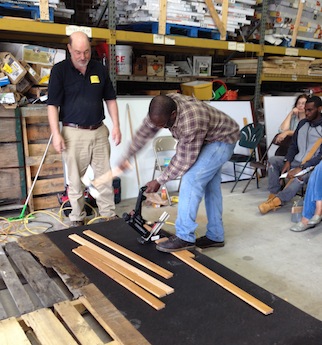 ---