3 Easy Ways to Sign Up - TLD Workshops
1. Online fill out the form on the right
2. Email us
3. Call The Loading Dock at (410) 558-3625 ext. #16
DIY Workshop Instructors Needed!
Enjoy doing DIY home improvement or creating upcycled art? Contact us about becoming a TLD Workshop Instructor: volunteers@loadingdock.org
Check out our past workshops!
---
Upcoming Workshops
Workshops are held on Saturdays at the TLD warehouse, from 10am - 12pm, unless otherwise specified. Seating is limited.
Installing Tile Backsplashes - November 3rd
See below for details on specific workshops & topics.
---
Installing Tile Backsplashes with Lawrence Oliva
Saturday, November 3rd ~ 10am - 12pm
Instructor Lawrence Oliva returns to demonstrate how to install tile backsplashes. Participants will learn through hands-on activities including spreading grout and placing tile.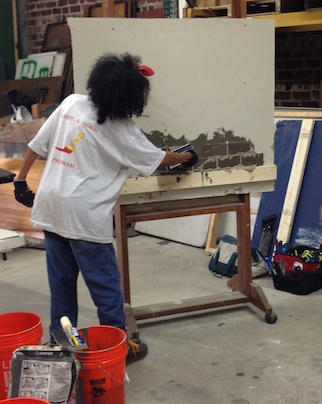 ---