COMING SOON!
Artscape 2017: "Camp Artscape: Adventure Awaits!"
The Loading Dock, Inc. will be displaying another installation at this year's Artscape festival, July 21 - 23, 2017.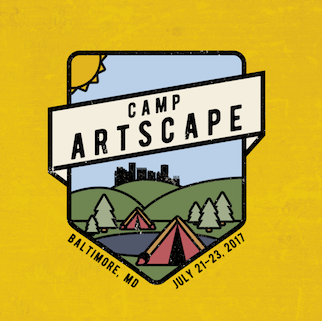 ---
Civicworks & Baltimore Orchard Project
Earth Day 2017
These stepping stones were created during an Earth Day Volunteer event with tile and mirror donated by The Loading Dock! They were made to pair with a rain garden that was also made on that day. This was done at Civic Work's Community Lots and Baltimore Orchard Project site in Hilltop at Clifton Park.
---
February & March 2017
After a fire displaced people supported by the Maryland Community Health Initiatives, Inc., so many clothing donations came pouring in that a donation center was needed. The Loading Dock donated bi-fold doors which were turned into shelving to store the donations.
It has been so successful that they are now adding a library with more door shelving to store books & games for children to use!


Maryland Community Health Initiatives, Inc. (Penn North) is a 501(c)3 nonprofit organization that has been delivering essential behavioral health and recovery services through its Penn North Community Resource Center in Baltimore City since 1993.

Their mission is to improve the health and wellbeing of individuals and families struggling to overcome substance abuse, homelessness, unemployment, poverty, crime, and violence.
---
September 30 - October 2, 2016
This free festival features music, vendors, and artists. If you missed our installation from Artscape 2016, here's your chance to see it!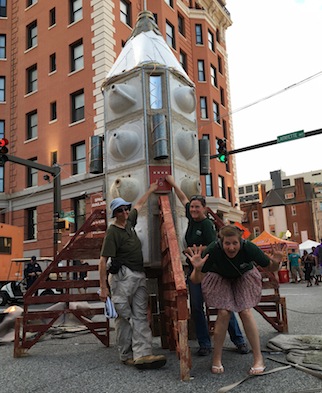 ---
Artscape Happenings
"Sink or Fly" by The Loading Dock, Inc., created by Michael Metcalf. This piece was constructed from a variety of re-useable materials from The Loading Dock, Inc., including pallets, roof slate, and bathroom sinks.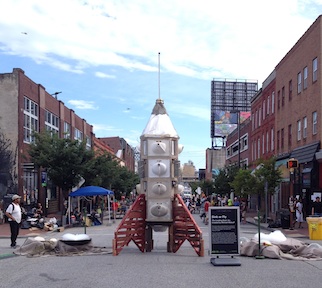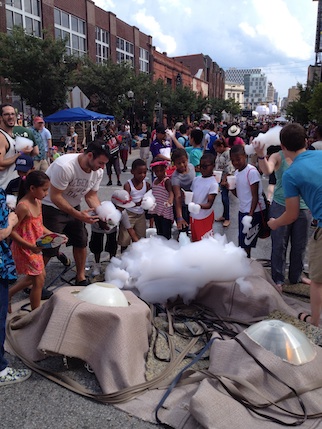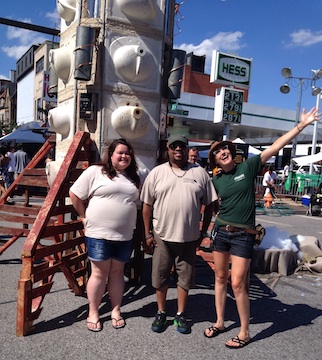 TLD staff respresenting at Artscape 2016!
---
Artscape 2015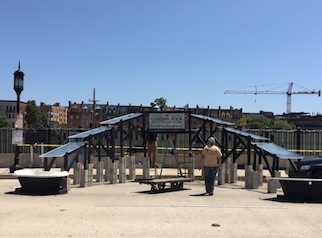 Here's 2015's installation, created by Michael Metcalf
---
Artscape 2013
Michael Metcalf created an amazing art installation to showcase alternative use of building materials.
---
Artscape 2011 & The Light Box Project
The Loading Dock (TLD) and Morgan State's School of Architecture and Planning (MSU SA+P) partnered to create a structure out of TLD materials and a shipping container.
This showcases TLD's motto, "You could build a house with what people throw away." Additionally, this project will display alternative uses of building materials and provide educational space for TLD and MSU SA+P students.
Creation - In 2011, MSU SA+P students built this structure to create a workable office/educational space, with an emphasis on alternative use of those materials. For example, line the walls with commercial doors instead of drywall. TLD donated 50% of the materials used, 85% of the materials are reused/reclaimed.
Reuse Demonstration - TLD and MSU SA+P showcased this project at ArtScape 2011, in downtown Baltimore.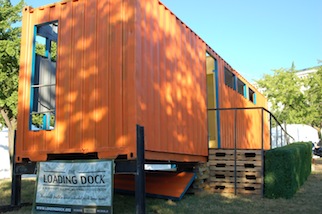 Final Usage - After ArtScape, the structure was moved to TLD. You can view it in front of The Loading Dock's parking area.
---
Past Happenings
8/27/16 - Summative Artist Talk
Baltimore artist Marian April Glebes discussed her year-long project for the Commons Collaboration partnership with the BMA and The Loading Dock.
Attendees interacting with the exhibit.
---
9/27/12 - Highlandtown Art Cart Race
The Loading Dock staff built an Art Cart racer for the Highlandtown Art Cart Race.
We utlized lumber, a sheet of laminate, a wheel chair, a running stroller, and an office chair to create the cart.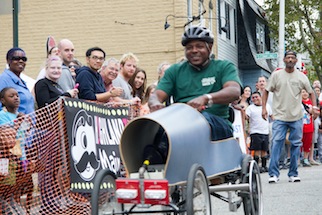 One of our Warehouse Associates, Mike, racing the Art cart.
The Art Cart is currently on display in the TLD warehouse.
---
TLD donated 204 cans of food, from the Food for Paint Swap, to the Dundalk Church of the Brethren. They have a food pantry that serves 50 to 60 people.
---